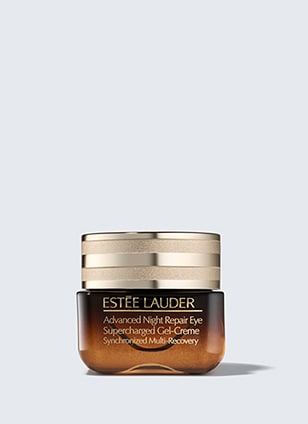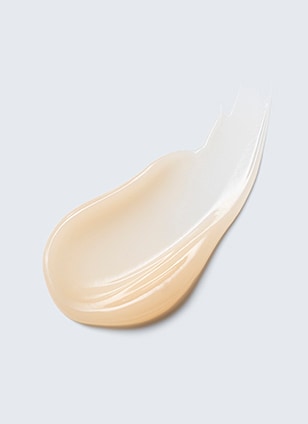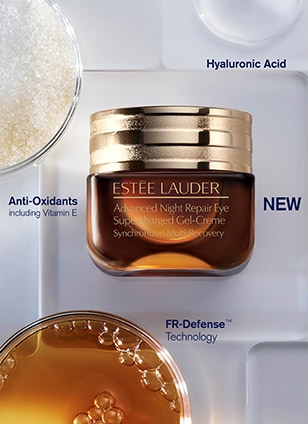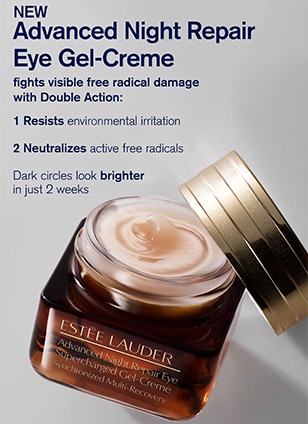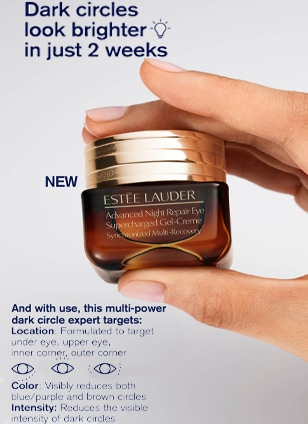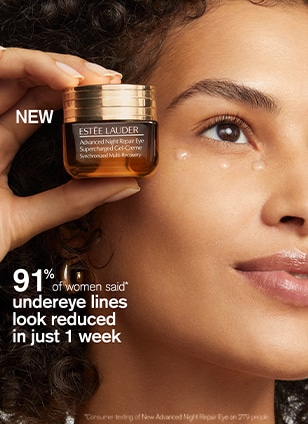 Advanced Night Repair Eye Supercharged Gel-Creme
Synchronized Multi-Recovery Eye Cream
BENEFITS
Our best eye cream, for dark circles, lines, more.
Product Details
15ml $135.00
Learn More
Shop now and pay later with 4 payments of
$33.75
FREE SHIPPING WITH ANY PURCHASE OF $50 OR MORE
Product Details
Starting tonight, supercharge your eyes for a brighter, more wide-awake eye look with the best eye cream for dark circles. Experience dark circles looking brighter in just 2 weeks, with lines and other initial signs of eye ageing reduced with this anti wrinkle eye cream.

Double Action: Fight the Visible Effects of Free Radical Damage. Blue light, including from devices, triggers skin-damaging free radicals. Our gel moisturiser has two powerful actions to fight the visible effects. Helps:

1. RESIST visible environmental irritation our exclusive FR-Defense™ technology.
2. NEUTRALISE skin-damaging free radicals with 8-hour anti-oxidant power. Our potent next-generation gel cream moisturiser formula, with Vitamin E, helps protect against free-radical damage all day.

The fresh, lightweight, fast-absorbing hyaluronic acid eye cream works night and day to help renew and improve the look of skin, with results you can see:
Brightens with Multi Dark Circle Power:
• This gel moisturiser is formulated to target dark circles in all locations: under eye, upper eye, inner corner, outer corner and all around.
• Clinically tested and shown to target a blend of blue/purple and brown circles, making it the best eye cream for dark circle concerns.
• Reduces the visible intensity of dark circles.

Targets Eye Lines and the Look of Initial Signs of Ageing:
• Undereye lines look reduced in just 1 week.(1)
• 89% agreed initial signs of ageing appear diminished after using this under eye cream for wrinkles and lines.(2)

Reveals Hydrated, Radiant, More Well-Rested Looking Eyes:
• 1 application delivers 100-hour hydration(3). Plumps and moisturises with this hyaluronic acid eye cream.
• Immediately reveals radiant looking eyes.
• 92% said tired eyes looked more rested, less fatigued.(2)

NEXT-GENERATION TECHNOLOGY

FR-Defense™. Estée Lauder scientists uncovered our exclusive FR-Defense™ technology to help resist visible environmental irritation.

Chronolux™ Power Signal Technology with our exclusive peptide helps boost skin's visible youth-generating power.

Even when life is keeping you up, our hyaluronic acid eye cream won't let your eyes show it.

(1) Clinical testing on 52 women after 1 week.
(2) Consumer testing on 279 women after using product for 3 weeks.
(3) Clinical testing on 31 women shows increased moisture 100 hours after a single application of the product.
BENEFITS
Our best eye cream, for dark circles, lines, more.
SKINTYPE
For all skintypes.
FORMULA FACTS
• Reduces the look of dark circles, eye lines, initial signs of eye aging
• Formulated and tested to ensure gentleness on the delicate eye area.
• Recyclable glass jar is made with a minimum of 15% post-consumer recycled content
• Cartons are recyclable and made with responsibly sourced paperboard
• Ophthalmologist-tested
• Dermatologist-tested
• Won't cause breakouts, won't clog pores (non-acnegenic)
• Free of synthetic fragrance
• Free of parabens, phthalates, sulfites, sulfate, drying alcohol, mineral oil, paraffin
Apply this anti wrinkle eye cream AM and PM all around eye area.

How to Recycle: When the glass jar is empty, please rinse and recycle it. Carton is also recyclable.
Tripeptide-32: Our exclusive peptide that promotes the natural synchronization of skin's natural day/night (circadian) rhythm, in which skin protects itself by day and repairs itself by night.
Sodium Hyaluronate: AKA Hyaluronic Acid, a ferment that is a powerful moisture magnet.
Tocopheryl Acetate: A form of Vitamin E that acts as a powerful anti-oxidant, helping to defend against free-radical damage.
<ILN50654>