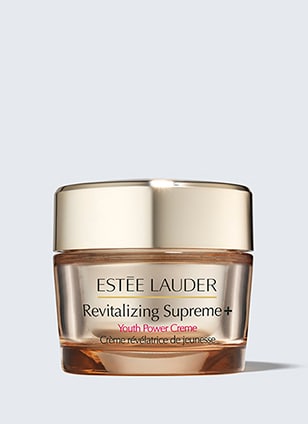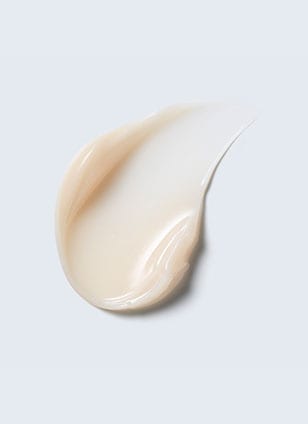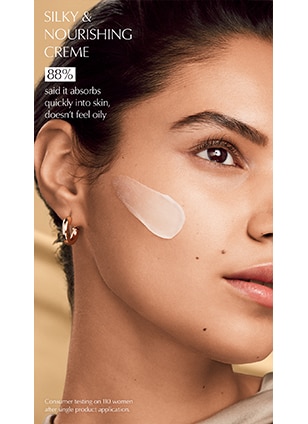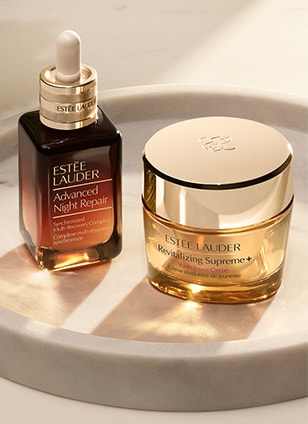 Revitalizing Supreme+
Youth Power Creme Moisturizer
BENEFIT
Rich multi-action creme: firming, lifting, radiance.
Product Details
Learn More
Shop now and pay later with 4 payments of
$38.75
FREE SHIPPING WITH ANY PURCHASE OF $50 OR MORE
Product Details
Your skin can have it all: Firmness. Strength. Radiance. And a new, more lifted look. All in a supremely indulgent texture.

With 99% naturally derived Hibiscus Morning Bloom and exclusive Moringa Extracts, you'll empower your skin to reveal its youth potential. The results are noticeable:

• 89% said skin looks more lifted.(1)
• 95% said skin feels firmer.(2)
• 87% said facial lines and wrinkles(1)--as well as neck lines(3)--look reduced.
• 93% agreed skin looks radiant and feels stronger, hydrated, nourished.(2)

YOUTH POWER INGREDIENTS

Exclusive Hibiscus Morning Bloom Extract

Nature at its most powerful. Estée Lauder scientists discovered that Hibiscus sinensis flowers harvested early in the day hold the highest collagen-boosting activity. So we gather hand-selected blooms in the morning for peak potency, then-in a process that takes 83 days from harvest to manufacture-create our extract that helps powerfully encourage skin's natural collagen.

Exclusive Moringa Extract

Often referred to as the "miracle tree," Moringa is one of the most effective Youth Power ingredients we've ever discovered. Our extract, created through an exclusive, patent-pending process, supports a powerful protein, helping skin empower multiple anti-aging pathways.

Cactus Stem Cell Extract and Hyaluronic Acid

Additional high-performance ingredients add to the power of Revitalizing Supreme+. An infusion of Cactus Stem Cell Extract and Hyaluronic Acid helps reveal stronger, nourished skin, saturated with 72-hour hydration. Skin's vital moisture barrier is strengthened.

Collagen Boosting Technology

Our formula combines our nature-powered ingredients with our Collagen Boosting Technology, to help reignite skin's power to help skin feel firmer, look more lifted.

SUPREMELY INDULGENT TEXTURE

Feels silky and nourishing. Absorbs quickly and melts into skin with no oily feeling.

• 95% said skin feels fresh and comforted-instantly.(4)
• 95% agreed this formula was skin-friendly and gentle on their skin.(1)

(1) Consumer testing on 110 women after using product for 4 weeks.
(2) Consumer testing on 110 women after using product for 2 weeks.
(3) Consumer testing on 91 women after using product for 4 weeks.
(4) Consumer testing on 110 women after a single product application.

BENEFIT
Rich multi-action creme: firming, lifting, radiance.
SKINTYPE
For all skintypes.
IDEAL FOR
• Multiple signs of aging
• Lifting; Loss of firmness, tone
• Lines and wrinkles
• Dullness, loss of radiance
• Dryness, dehydration
FORMULA FACTS
• Dermatologist-tested
• Ophthalmologist-tested
• Won't cause breakouts, won't clog pores (non-acnegenic)
• Suitable for neck area
Apply all over face and neck, AM and PM. Ideal after your repair serum.
Moringa Oleifera Seed Extract: An extract** from the Moringa Oleifera plant, which is often called the miracle tree. Our exclusive Moringa Oleifera Seed Extract helps to unlock anti-aging activity in the skin and also provides anti-oxidant and anti-irritant benefits.
**patented extaction process
Sodium Hyaluronate: AKA Hyaluronic Acid, a ferment that is a powerful moisture magnet.
Opuntia Tuna Extracte: A plant extract from the Prickly Pear Cactus that helps to strengthen skin's moisture barrier.